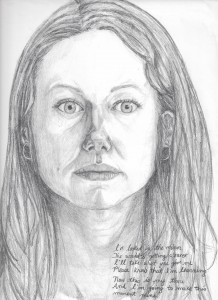 2003
graphite
This self portrait was a response to being asked to write an autobiography as part of the admission process to the Kutenai Art Therapy Institute. My innate method of communication is through visual arts and only secondarily through the written word, so naturally I started with art first and then wrote.
This self portrait was also part of my recovery process after witnessing a violent traumatic event that resulted in some symptoms associated with Acute Post Traumatic Stress. The dramatic light and shadow used and the startled, wide-opened eyes illustrates the emotional tone of the piece.
The quotation is lyrics from a Chantal Kreviazuk song. Click on the image to read the words, also written below the enlarged image. These words reflected my surety of my life purpose to pursue Art Therapy as a career, especially after the traumatic event.